Meet the Yeoman!

---
Jake - November 1963 in Sasebo, Japan
Hello shipmates, this is a picture of me waaaaay back in 1963, when I was young and hitting all the hot spots in southeast Asia! The story behind this picture goes something like this:

I was on liberty in Sasebo, Japan, and was walking down one of those popular and ever-present little "Flea Markets" known as "Thieves Ally' that one finds in most Navy ports of call. I seemed to be drawn to any place that I could find 'bargains' to send home to the folks, and of course the girl friend, who had my heart.

I was walking down the street of that one particular 'Thieves Ally' when I came upon this little Photographer's shop. The old man had a very haggard, old face with one of those Asian beards, of scanty hairs, down to his chest. He was, I presume of the age one thinks as very 'ancient'. I strongly had my doubts that this old relic of another era could render my image to any degree of value, but I was in need of a picture of myself, to send home. So I went in, at his eager beckoning (as we squids all remember all merchants in those places were).

He commenced to arrange me in a pose, and soon the lights were flashing. He only took several snaps, so I was soon on my way. He told me that the photo would be ready the next day. Since the ship was going to be in port for several days, I said, OK, and went on my merry way.

The next day, again, I was on liberty, and made my way quickly back to his little shop with the open front to the street. There he was, sitting, and when he saw me, his face lit up and I could see the twinkle in his old eyes. He was quite an image himself, and I had wished I had my own camera with me, so that I could have captured his own face, since he really would have made an interesting picture, at least for my own memories.

As you can see, I never did forget him and the impression he made on me, though his name and the name of his little shop is now lost to me.

I went in again, at his eager beckoning, and he sat me down, and I could see the pride welling up in his eyes, as he took the photos he made of me, out of a manila envelope. There before me was the photo he made:
and I was not only surprised but very impressed by his workmanship. He even took away some of the blemishes on my young face, and made for me, an EXCEPTIONAL photo that I was very happy to have. It has become one of the very BEST photos I have ever had made of myself when I was very young.

This truly changed my opinions of these people, whom I had personally regarded with less than fair esteem. I today have lost a lot of my former feelings about people of other lands.

Though, I cannot remember his name, or the name of his shop, I hope he knows that I have been appreciative of his work, ever since. Thank you, Sir!

Today, your Yeoman has put on the years, some girth and maturity.. but inside, he's the same young Squid, and still full of Navy Pride.
Jake, Today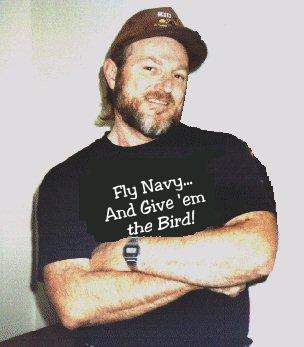 I know you also feel the same way about your own youth, and I hope this Memorial to the USS Jaccard will bring back the memories for you, which ever ship or Duty Station you served in.

May you have Fair Winds and Following Seas!

Jake